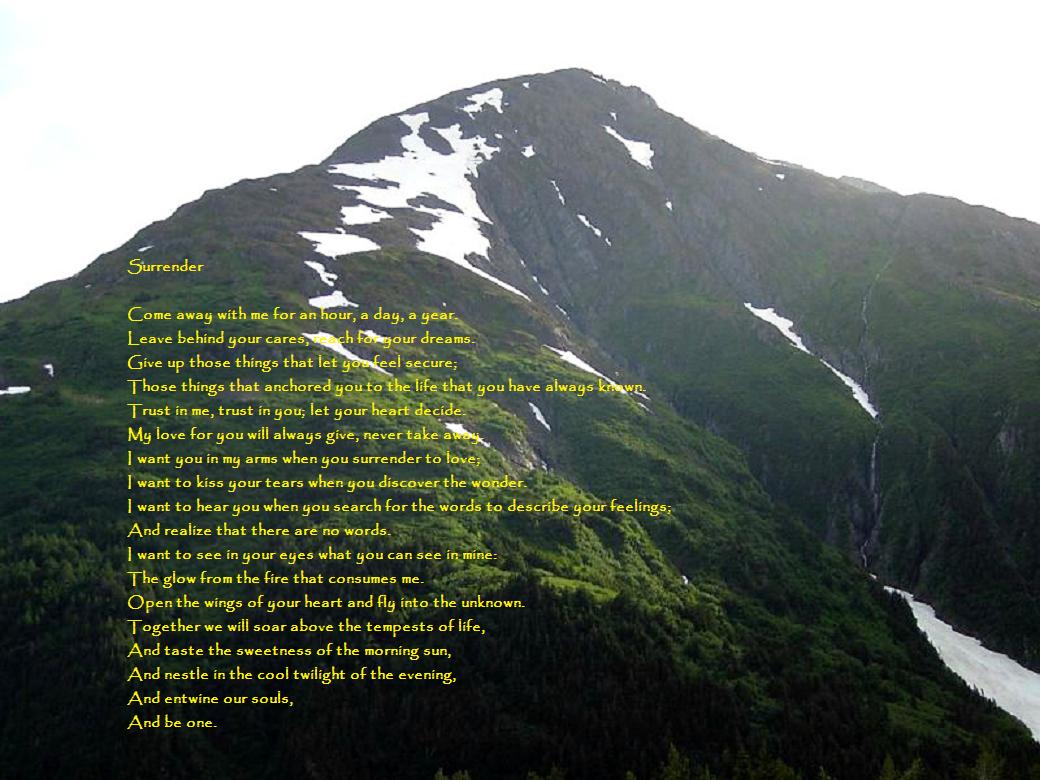 Surrender by Phillip Varady
Come away with me for an hour, a day, a year.
Leave behind your cares, reach for your dreams.
Give up those things that let you feel secure;
Those things that anchored you to the life that you have always known.
Trust in me, trust in you; let your heart decide.
My love for you will always give, never take away.
I want you in my arms when you surrender to love;
I want to kiss your tears when you discover the wonder.
I want to hear you when you search for the words to describe your feelings;
And realize that there are no words.
I want to see in your eyes what you can see in mine:
The glow from the fire that consumes me.
Open the wings of your heart and fly into the unknown.
Together we will soar above the tempests of life,
And taste the sweetness of the morning sun,
And nestle in the cool twilight of the evening,
And entwine our souls,
And be one.
Capitulation par Phillip Varady
Enfuis-toi avec moi pendant une heure, un jour, une année.
Laisse derrière tes soins, accroche à tes rêves.
Renonce à ces choses qui t'ont permis de te sentir sûre ;
Ces choses qui t'ont ancré à la vie que tu connaissais.
Aie confiance en moi, aie confiance en toi ; laisse ton cœur décide.
Mon amour pour toi toujours donnera, ne prendra jamais.
Je te veux dans mes bras quand tu capitules à l'amour ;
Je veux baiser tes larmes quand tu découvres la merveille.
Je veux t'entendre quand tu recherches les mots pour décrire tes émotions,
Lorsque tu rends compte qu'il n'y a pas de mot.
Je veux voir dans tes yeux ce que tu peux voir dans les miens,
La lueur du feu qui me consomme.
Ouvre les ailes de ton cœur et vole dans l'inconnu.
Ensemble nous monterons au-dessus les tempêtes de la vie,
Et goûtons la douceur du soleil du matin,
Et blottissons-nous au crépuscule frais de la soirée,
Et entrelaçons nos âmes,
Et soyons.
Grâce à Norah Jones pour l'inspiration