Perfect Prayers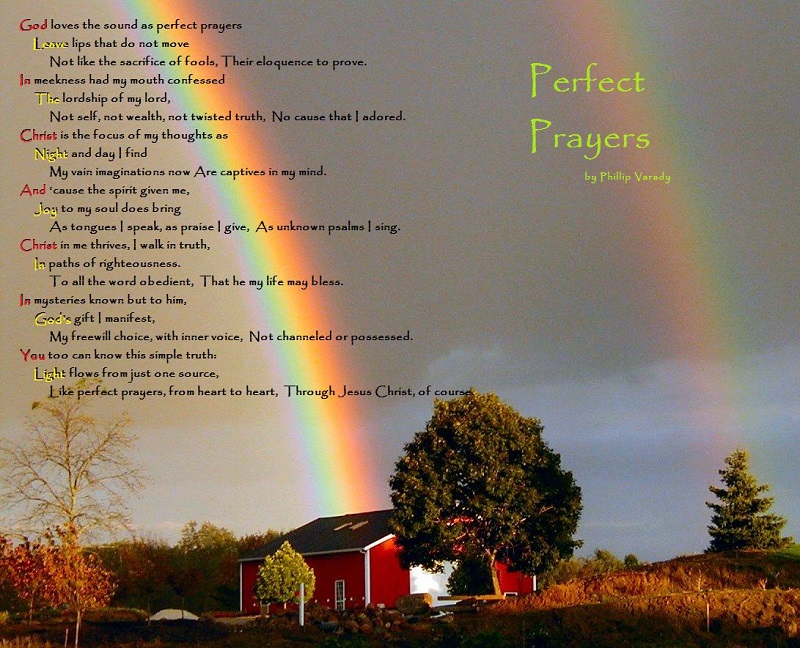 God loves the sound as perfect prayers
Leave lips that do not move
Not like the sacrifice of fools,
Their eloquence to prove.
In meekness had my mouth confessed
The lordship of my lord,
Not self, not wealth, not twisted truth,
No cause that I adored.
Christ is the focus of my thoughts as
Night and day I find
My vain imaginations now
Are captives in my mind.
And 'cause the spirit given me,
Joy to my soul does bring
As tongues I speak, as praise I give,
As unknown psalms I sing.
Christ in me thrives, I walk in truth,
In paths of righteousness.
To all the word obedient,
That he my life may bless.
In mysteries known but to him,
God's gift I manifest,
My freewill choice, with inner voice,
Not channeled or possessed.
You too can know this simple truth:
Light flows from just one source,
Like perfect prayers, from heart to heart,
Through Jesus Christ, of course.
By Phillip Varady Sr.